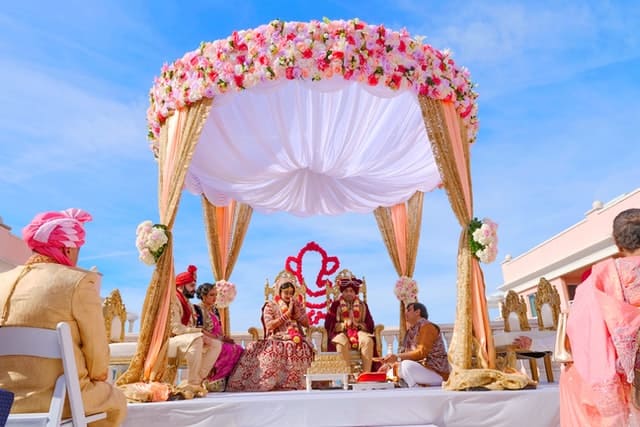 Found The Best Indian Wedding Theme Yet? – The 6 S's of Choosing One.
As much as having a great Indian wedding theme can WOW many people at the wedding, the journey of choosing a wedding theme can be tedious and may end in disaster if it is not properly executed.
Why disappoint ourselves on our big day? Thus, here are 6 S's that will guide you in choosing a wedding theme and a wedding decorator. If you haven't decided on the perfect hairstyle for you, do check out last week's post on bridal hairstyles.
6 S's of Indian Wedding Theme
A wedding theme should fit and gel with many aspects of the wedding day from the wedding couple's attire to the decorations. The selected Indian wedding theme should also be feasible and the wedding planners or decorators should be able to execute the theme.
Therefore, it is wise for the couple to survey through the themes and wedding planners. Have a look at various kinds of themes. Take note on how the decorators have accommodated the various themes.
As for wedding planners or decorators, have a look at the previous works to see if the work are to your liking. Read reviews from other customers to ensure that you avoid choosing a bad wedding planner.
Every bride or groom might have a vision of how their wedding day should look like. It is advisable for both the bride and groom to stand on the same ground. Then, speak to the wedding planners. If you want excellent execution of the wedding theme, you need to be vocal about it.
Voice out your budget, expectations, your visualizations and check if the wedding planner is in sync with you. Build a good rapport with them since they also play a key role on your wedding day.
Allow the wedding planners to also give you suggestions on how you can plan the execution of the Indian wedding theme of your choice. Remember, you may want to consider their suggestions, but at the end of the day, the groom and bride should make the final call. It's their day after all.
Filter out the themes and vendors that you have surveyed and finally select one. Select the theme that pleases and excites you. Also, as you speak to the vendors, list out potential wedding planners that you are comfortable with and that earns your trust. Select the wedding planner that you are most comfortable with and check their availability.
A wedding theme isn't the only aspect that you and your partner will need to be fretting about. There a tons more things in the list to tick. Hence, bring along a friend or a cousin or any family member as a support during your meetings with the wedding decorator.
Make sure your support understands your visions and is able to give you constructive feedback about your decisions. If you have too much on your plate, entrust your support to continue keeping in touch with the wedding planner and supervise if the work is going on as per schedule.
Be systematic. Start by surveying and selecting an Indian wedding theme. Then select a wedding planner. You may need to multitask since you will have meetings with your caterers and make-up artists around the same time too. Make notes of your progress and add reminders of meetings on your phones.
Avoid getting confused on which meeting you are attending or whom you are meeting. It can be quite disastrous to fix a meeting with a wedding decorator but going off to meet the caterer instead. Keep track of your deposits and payments too. Your support may also want to help you in being systematic.
Among the first step you took in this journey of choosing a wedding theme was by reading reviews of previous customers. Reflect back on your experience dealing with the wedding planner and the quality of their service. Was it excellent or satisfactory?
Share your honest reviews and experience at Wedding Beats to help the future bride and grooms in their journey of choosing a wedding theme.